Faith & Family
Faith and Family Table Rock Lake Fishing Charters
Faith
Put everything in God's hands and He will bless you more than you can imagine! What a ride for my family and my business. He has surely blessed it abundantly beyond my wildest dreams. Fishing for a living, having the opportunity to take trips and vacations in the off season. How could you ever ask for anything better than that. I give my Lord and Savior Jesus Christ all the credit for my success and honor him with my bounty. For He is the only reason I am where I am today! He brought me out of the depths of sin into his glory by dying on the cross for me. He died for me and everyone, even His enemies. Could I do the same? I wish I could say I would.
My life was full of greed and sadness without the Lord, now it is full of joy and love. Not that tough times don't come to me. He allows them to come into my life to strengthen my faith in Him. All Christians need to thank the Lord for the hard times and be joyous because better times are ahead! Can we even imagine Eternal Life? The mere 60-100 years we live on this earth aren't even a drop in the bucket! We all will have eternal life, some with Jesus, some apart from Him. Jesus describes the later as weeping and grinding and gnashing of teeth. Apart from God and alone. Is that where you want to spend eternity? Your Choice! Eternal life with Jesus is just a moment away! You don't have to do any great deeds. You can't earn it! It's a Gift From God! He gives us this gift through His Son Jesus Christ, who died for all of us! You can receive this gift of eternal life by praying this simple prayer!
Lord Jesus, I know that I am a sinner. I am asking for You to forgive all of my sins, and lead me through repentance. I believe You died on the cross, rose from the dead and ascended to Heaven. Come into my heart Jesus and send the Holy Spirit to lead me to a better life following You and Your ways. Thank you Lord Jesus for your free gift or eternal life and love, In Jesus Name. AMEN.
Welcome brothers and sisters!
- Rick LaPoint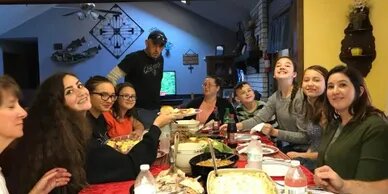 Family
I am very blessed to have a loving wife, Karen for over 44 years.
2 Children, Michelle and Aaron, and 6 grandchildren, Hayden, Katy, Claire, Kylie, Isabel and Noah.
My son Aaron's wife Amy tragically passed away Christmas eve day in 2017 from the flu. Our hearts still break everyday for Capt Aaron and his 4 children. Please pray for them.
Family Fishing
Capt Aaron and I take many families out with our larger center console boats that can handle up to 6 Family members per boat.
Check out some more Family pictures with Table Rock Lake fishing guides, Capt Rick