The Guides
All about Capt Rick, your Branson Fishing Table Rock Lake Guide Service
Over 27 Years Full Time Guiding Experience
I grew up with fishing in my veins. Ever since I can remember I was holding a rod and reel.
My dream was to fish for a living as long as I can recall. Now I am living my dream. My specialties are teaching anglers the refined techniques I have learned over the years.
I am also a fisher of men. I accepted Jesus as My Savior in 1996 while I was driving down the road listening to Christian Radio. Now I am doing what others dream, for a living! I love to share my testimony with others. And I owe it all to my personal savior Jesus Christ.
Now that you know a little about my life, and you decide to hire me, that's great. I look forward to our time together and know we will have a great day of fishing!
Trophy Smallmouth Guiding
This is a special time of year in Northern Wisconsin. These trips are only available from August 15 - October 15th. There usually is a waiting list for these trips and they book up fast.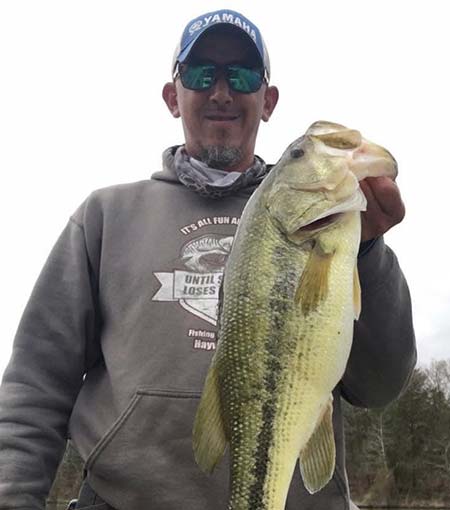 All about Capt. Aaron, your Branson Fishing Table Rock Lake Guide Service
Capt. Aaron is following in his dad's footsteps. Capt. Aaron Loves to teach his customers the tricks and techniques he has learned over the years
The love for the outdoors has always been in my blood. I have been fishing since I was big enough to hold a rod, fishing my first bass tournament with my dad at only 5 years old. Since I was a young kid, I have been fascinated with learning everything I could about fish, their behaviors, and the tackle used to catch them. I joined a local bass club at 14 and qualified for the Federation State Championship. I've competed in several other tournaments and even made it to Nationals in the Like Father Like Son tournament trail. Fishing for a living was always my dream. Shortly after high school, I met my wife and began to focus on raising a family, involving my own four kids in the outdoors every chance I could. On the water or in the woods is my happy place and sharing those experiences with them is a blessing.
In December 2017, we lost my wife Amy to a sudden illness. As devastating a loss as it was to our family, we continue to move forward everyday with positivity for the future. Amy left us in the position to seek out our dreams and I did just that in early 2019 taking and completing U.S. Coast Guard Captain classes and getting my Captain's License to guide. Beginning a lifelong dream while raising four kids has been challenging, but I'm thankful for it every day.
Capt. Aaron is great with families.